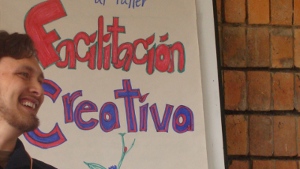 Alan Wong is a life-long Seattlite who has dedicated his life to service, creativity, and social change. Growing up as part of a multi-racial family in South Seattle, Alan has been committed to bringing diverse cultures and communities together since his early days. His Chinese name, 平 "Peng", means "peace" and "balance" – qualities he strives to embody himself and share with the communities he serves.
Alan attended Denny Middle School and Garfield High School in Seattle, before heading to Olympia to attend the Evergreen State College. After graduating from college, Alan worked as a reading tutor at Sanislo elementary school. The following year he began what would become an eight-year career with the innovative arts-empowerment and education organization, Power of Hope, serving as lead facilitator, program manager, and program director in his time there. In 2010 Alan founded "Alan Wong Facilitation and Training" and has since led powerful professional development and youth empowerment programs in communities as diverse as Houston, Texas; Vancouver, Canada; and Cuenca, Ecuador.
In addition to bringing out the creativity in those he works with, Alan is an artist himself. He is a spoken-word poet and musician who has performed his original songs and poetry in venues across the Northwest – sharing the stage with renowned Seattle artists like the Blue Scholars and Gabriel Teodros. When not facilitating, Alan loves to make music, write poetry, hike into the wilderness, and cook creative cuisine.