Colleges and Universities: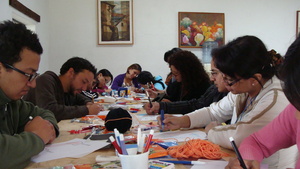 Alan offers training and team-building for student leadership groups, guest lectures in college classrooms, and on-campus community-building opportunities for students and staff.
Other Services:
Public Speaking, Curriculum Design, Program Development and Consultation. Alan has delivered inspiring and uplifting speeches for youth and adult audiences as small as 10 and as large as 1,000. He has also collaborated with schools, non-profits, and churches across the country to create dynamic curriculum and design powerful programs.
My students have repeatedly incorporated the games or structures Alan introduces to them into their teaching experiences in the field. He has had a huge impact on their overall experience in the course I teach. The methods he employs stay with them. —Jen Salk, University of Washington School of Dance